Slain Tulsa Doctor Was Harvard Medical School Graduate Who Went On Medical Missions to Africa
Investigators say the gunman targeted Dr. Preston Phillips.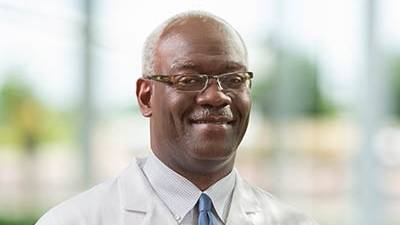 One of the victims of a mass shooting at Tulsa's Saint Francis Hospital was a doctor with a reputation for helping people all over the world.

Dr. Preston Phillips, 59, who was a specialist in spinal surgery and joint reconstruction, graduated from Harvard Medical School in 1990. He also earned advanced degrees in organic chemistry and pharmacology, as well as theology from Emory University. Well regarded within the medical community, he received his training in spinal operations at the Beth Israel Deaconess Medical Center in Boston.

"He was an exemplary surgeon and individual who represented all that is best in Orthopedics. He was always devoted to his patients and a remarkable role model for residents and fellows," said Dr. Edward K. Rodriguez, chief of the orthopedics department at BIDMC told local Boston station WFXT.

But along with being a revered physician, each year, Phillips went on medical missions to Africa with Light in the World Development Foundation, a nonprofit organization that provides surgical services to poor people and was founded by his colleague Dr. Komi Folly.
Folly's daughter, Ruth Folly, a surgical technician, told CNN that she went on several missions with Phillips to Africa. She said he had planned to go in mid-June on a mission to Togo, West Africa.
"You always call me a son and I call you father," Dr. Folly wrote on Facebook. "You told me last week at work during lunchtime to not stop this project in Togo in case something happens to you. I did not know that you were giving me the last advice for our journey. I am so sad to see you go without a goodbye. Your work will continue. You will be missed."

In addition to Phillips, the Tulsa Police Department identified the other victims as William Love, a 73-year-old patient and Vietnam veteran; Amanda Dawn Glenn, 40, a receptionist, wife and mother of two sons; and Dr. Stephanie Husen, 48, a sports and internal medicine specialist.

Chief Wendell Franklin identified the gunman as Michael Louis, who the police found at the scene dead of an apparent self-inflicted gunshot wound, USA Today reports. Franklin stated that Louis recently had surgery and targeted Phillips.
"We also have a letter on the suspect, which made it clear that he came in with the intent to kill Dr. Phillips and anyone who got in his way," Franklin said. "He blamed Dr. Phillips for the ongoing pain following the surgery.
"We are supposed to be the ones that are caring for others during tragedies like this. To think that our caregivers were the victims is just incomprehensible to me," Dr. Ryan Parker, the associate chief medical officer at Saint Francis and an ER physician, said during a press conference on June 2, CNN reports.

The shooting is the third high-profile mass shooting within the past three weeks along with a massacre at a supermarket in Buffalo that took the lives of 10 people and in Uvalde, Tex., in which a gunman opened fire in an elementary school, killing 19 children and two teachers. In an address to the nation Thursday night, President Biden called for tougher gun legislation, although resistance from Congressional Republicans makes that unlikely.

"This isn't about taking away anyone's rights, it's about protecting children, it's about protecting families," Biden said.

Meanwhile, the Saint Francis Hospital family continues to mourn the lives taken during the shooting. Phillip's family, colleagues and friends are left to pick up the pieces.
He was "a wonderful, gentle, kind person with an infectious smile and a kind word for everyone," Sandy Thompson, a friend of Phillips, told CNN.