BET Awards 2023: The Fiercest 'Best Female Hip-Hop Artist' Winners
See which female rappers took home the crown.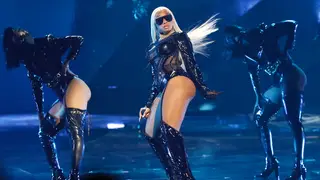 The BET Awards have witnessed the rise of some of the most formidable ladies in hip-hop. With each passing year, the stage is graced by the most remarkable talents in the genre. Five extraordinary women have left an indelible mark as recipients of the distinguished "Best Female Hip Hop Artist" honor.
These fierce emcees have shattered glass ceilings, defied stereotypes, and commanded respect with their unparalleled skills on the mic. From delivering hard-hitting verses to empowering anthems that resonate with strength and resilience, these unforgettable winners have become pillars of inspiration in hip-hop. 
Eve

In 2001, Philly-based artist Eve won the first BET Awards for "Best Female Hip Hop Artist." The "Tambourine" rapper was amongst a talented group of female emcees, including Da Brat, Lil' Kim, Missy Elliott, and Miami's Queen of Rap, Trina.  That same evening, she performed her smash hit "Let Me Blow Your Mind" alongside Gwen Stefani.

Megan Thee Stallion

The official Hot Gurl Couch herself is the BET Awards reigning "Best Female Hip Hop Artist" after earning and keeping the crown since 2020. During last year's ceremony, the Houston native came up top, beating up Cardi B.,  Doja Cat, Latto, Nicki Minaj, and Saweetie

Missy Elliott

Veteran rapper Missy Elliott holds the record for the second most wins in this category with five earning her first award in 2002, 2003 and again 2004, before discrowned by Bronx native Remy Ma. However, Missy would reclaim the title in 2006 and 2008 after no one was awarded in 2007.

Cardi B.

In 2018, the reality star turned rapper Cardi B. released her debut studio album Invasion of Privacy. That same year she was crowned "Best Female Hip Hop Artist." The following year she accepted the award again after being nominated alongside Kash Doll, Lizzo, Megan Thee Stallion, Nicki Minaj, and Remy Ma.

The 2023 BET Awards premieres Sunday, June 25 at 8 pm ET/PT on BET and BET Her.