Who's The G.O.A.T. Rap Crew? Here's A Recap Of Round 4
In the tournament to decide the greatest rap crew of all time, Round 4's semifinal was exciting to the very end.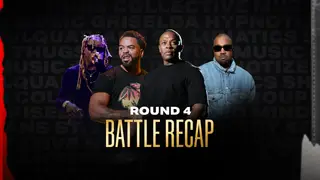 In recognition of hip hop's 50th anniversary, BET Digital, in partnership with Ambrosia For Heads, is celebrating the culture by hosting a bracket-style competition that allows you to determine hip hop's greatest crew.
Rather than having "experts" tell you who is the greatest of all time, this is your opportunity to collectively make that decision. After giving the opportunity to any and all fans to provide feedback on which crews should be included, 32 collectives from different regions, styles, and generations have been selected—all vying for that #1 spot. When the final battle is over and the last vote is cast, you will have determined who is your Greatest Rap Crew of All Time.
The Greatest Rap Crew of All Time launched with 32 collectives. After an exciting Round 4, the competition is officially down to TWO FINAL crews. The championship matchup has been determined.
In this celebration of hip hop and all of its talented crews, your vote decides the winner, so VOTE TOMORROW for your all-time favorite.
In the semifinal, a matchup between the Wu-Tang Clan and G.O.O.D. Music crew saw the winners of the East Coast and Midwest regions do battle. The Clan surged ahead past the crew they've worked with on albums like "My Beautiful Dark Twisted Fantasy," "The Man With The Iron Fists soundtrack," and "Cruel Summer."
The other semifinal matchup was a closer race. The winners of the West Coast and Dirty South—Death Row Family  and YMCMB squared off. In one of the tournament's tighter competitions, the crew, including Dr. Dre, Snoop Dogg, Tupac , and others, prevailed against the squad involving Lil Wayne, Drake, Nicki Minaj, Juvenile, Mannie Fresh, Birdman, and others. Both influential collectives represent extensive and dynamic membership, with multiple movements and eras within each. Less than one thousand votes decided this matchup, making for the most exciting competition in the tournament thus far.
That spirit of tight competition will undoubtedly carry into the championship round. Wu-Tang Clan and the Death Row Family are contemporaries. Both crews formed in the early 1990s, and players on both squads remain all-stars over 30 years later. There were reports in several books on Death Row—including Ronin Ro's "Have Gun Will Travel" that Suge Knight unsuccessfully attempted to bring the burgeoning Wu to Death Row in the mid-1990s. By 1996, Method Man joined Tupac and Tha Dogg Pound on "Got My Mind Made Up" from the diamond-certified "All Eyez On Me." However, that song—also featuring Redman—omitted a recorded verse from Inspectah Deck. 
Now, these ever-active collectives of artists square off in a showdown that will decide the winner of the Greatest Rap Crew tournament. By the looks of things, this matchup will be a photo finish when the polls close. That's why this round features 72 hours of voting—before the winner is announced at the BET Awards 2023.
---
EDITOR's NOTE: Register for the sweepstakes for a chance to win the grand prize of (2) two tickets to the 2023 BET Awards, (2) two round-trip airline tickets, and a 2-night hotel stay on June 25. Up your chances to win by voting weekly.
NO PURCHASE NECESSARY TO ENTER OR WIN. VOID OUTSIDE OF THE 50 U.S. & D.C. AND WHERE PROHIBITED BY LAW. Open to legal residents of the 50 U.S. & D.C. who are 18 years of age or older at the time of entry. Ends at 12:00 p.m. ET on June 9, 2023. Official Rules: bet.com/grcoat-official-rules. Sponsor: Black Entertainment Television.