BET Awards 2023: A Look Back at 5 of the Most Unforgettable 'Best New Artist' Winners
Some of these winners have gone on to break records.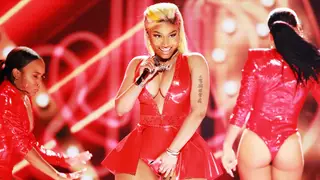 We're just a little under a month away from the BET Awards 2023, and in preparation for the biggest night in Black Hollywood, we're looking back at some of the illustrious "Best New Artist winners."
These once-rising artists have since forged their path to total stardom with unrivaled passion and raw talent. These five unforgettable recipients have captivated audiences with their unique sounds, infectious energy, and magnetic presence. Join us as we look back at some of those past winners, and don't forget to watch the BET Awards.
Nicki Minaj

Queens-based emcee Nicki Minaj had established a significant fanbase with a series of mixtapes between 2007 and 2009. The following year the "Super Bass" rapper released her debut album, Pink Friday, and earned herself the "Best New Artist" at the 2010 BET Awards. Since then, she's gone on to become one of the biggest-selling artists in the business influencing a whole new class of female emcees.

Kendrick Lamar

West Coast rapper Kenrick Lamar was crowned "Best New Artist" at the 2013 BET Awards over a slew of amazing acts like Joey Bada$$, Azealia Banks, The Weeknd, and Trinidad James. Since then, the "Pride" emcee has won over a dozen more accolades, including 17 Grammy awards.

SZA

Singer and songwriter SZA is currently one of the hottest r&b artists out, and it was all predicted in 2018 when she took home "Best New Artist." The "Kill Bill" musician was amongst a class of new artists with a fresh new sound, including Goldlink, Daniel Ceaser, H.E.R., and A Boogie wit da Hoodie.

Latto

Rising Atlanta rapper Latto has been having a fantastic year performing at major festivals, working with some of the biggest names in the industry, and of course taking home several significant awards. At the 2022 BET Awards, the 777 artist tearfully accepted the "Best New Artist" trophy.

Kanye West

Controversy aside, Kanye West is currently the most successful artist to ever win "Best New Artist" at the BET Awards.  The 24-time Grammy Award winner accepted the recognition in 2004, beating out Chingy, Anthony Hamilton, Ruben Studdard, and longtime collaborator Pharrell Williams.

The 2023 BET Awards premieres Sunday, June 25 at 8 pm ET/PT on BET and BET Her.