DeSantis Invites VP Kamala Harris To Debate Florida Black History Standards, She Balks
Harris described the governor as one of the leading advocates of a group who are attempting to whitewash "ugly parts of history."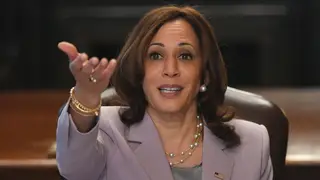 Vice President Kamala Harris has declined Florida Gov. Ron DeSantis' invitation for a  debate on the state's new guidelines on teaching Black History in public schools, CBS News reports.
Appearing at the 20th Women's Missionary Society of the African Methodist Episcopal Church Quadrennial Convention in Orlando on Tuesday (August 1), she described DeSantis as one of the leading members of a group of "extremist, so-called leaders" who are attempted to whitewash "ugly parts of history" in her speech.
"Well, I'm here in Florida and I will tell you, there is no roundtable, no lecture, no invitation we will accept to debate an undeniable fact. There were no redeeming qualities of slavery," Harris said without mentioning the governor's name as the audience applauded.
"They attempt to legitimize these unnecessary debates with a proposal that most recently came in of a politically motivated roundtable," Harris continued. "We will not stop calling out and fighting back against extremist, so-called leaders who try to prevent our children from learning our true and full history."
On Monday (July 31), DeSantis, who is a Republican presidential candidate, wrote a letter to Harris inviting her to discuss the state's new teaching standards on Black history.
"Time and again, D.C. politicians choose to malign our state and its residents," DeSantis wrote. "Over the past several weeks, the Biden Administration has repeatedly disparaged our state and misinformed Americans about our education system. It's past time to set the record straight."
While speaking to reporters on the campaign in New Hampshire, DeSantis accused Harris of spreading false narratives about his state.
"She came to Florida to attack us, and she's trying to attack me. But she's really attacking the people that worked hard on this," he told reporters on Tuesday. "I think it's wrong to let lies be perpetuated. It's wrong to let false narratives stand."
Harris has previously publicly criticized DeSantis for his views on slavery and the state's new education standards. In July, the vice president critiqued the governor for defending the state's curriculum claim about the "benefits" of slavery.
"They dare to push propaganda to our children. This is the United States of America. We're not supposed to do that," Harris said, adding that extremists want to "replace history with lies."
In addition to Harris, the Black Conservative Federation, one of the most influential Black Republican groups in the country, expressed their outrage over how slavery has been mischaracterized by DeSantis and the state's public school system.
"This stance undermines the historical reality of slavery and the unimaginable hardships endured by millions of enslaved individuals. In reality, slaves were oppressed and denied access to education, equal opportunities, and social mobility," their statement read.
"They were forced to adapt and survive under extraordinary circumstances, showcasing remarkable resilience and resourcefulness," the statement continued. "However, attributing their acquired skills as a benefit is an oversimplification and can obscure the true nature of their experiences. Slaves did not have 'agency!' They were forced to do jobs without pay. This is not a benefit by any stretch of the imagination."