BET Awards 2023: 5 Intriguing Facts About Rising R&B Sensation Ogi Ifediora
The Nigerian-American singer delivered a buzzworthy performance on BET's Amplified stage at the 2022 award ceremony.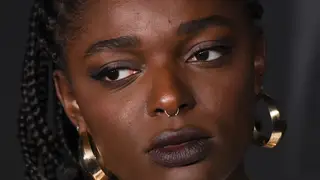 There's a new singer on the r&b block, and her name is Ogi Ifediora. The Nigerian-American aspiring songstress caught traction thanks to several cover performances of popular songs, including PJ Morton's "Alright" and her smash single "I Got It."
The hype landed Ogi on the amplified stage at the illustrious 2022 BET Awards, where she delivered a stunning performance of the 2021 song that left the audience spellbound. From the first soul-stirring verse to the final crescendo of her vocal prowess, Ogi's unforgettable presence electrified viewers.
Get to know this rising artist better with these fun facts, and don't forget to check out the 2023 BET Awards airing live on Sunday, June 25 at 8 pm.
A cover performance scored her a record deal

During her senior year of college, Ogi created an Instagram page dedicated to her cover songs. One performance found the aspiring artist singing PJ Morton's "Alright." The veteran musician saw the video and reposted the song, ultimately catching the ears of producer No. I.d., who later signed Ogi to his label imprint, ARTium.

She never intended to have a career in music

Before earning a record deal with ARTium, Ogi majored in political science with a minor in legal studies at Northwestern University.

She grew up around music

In an interview with Billboard, the singer described waking up to her grandmother's singing Nigerian hymns. "Those are the first songs I can remember memorizing because we heard them every day," she told the outlet.

She didn't know she could sing until she got to college

In an interview, Ogi revealed that she "didn't really know that I was particularly good [at singing]until I got into an a cappella group in college."

Aside from music, she loves to cook

While talking to The Knockturnal, the singer opened up about her love for cooking. "I'm becoming a fan more and more," she told the outlet. "It calms me down after a long day. Especially when you're on the road for long stretches at a time, it just makes you really miss your kitchen."

The BET Awards 2023 premieres Sunday, June 25 at 8 pm ET/PT on BET and BET Her.