BET Awards 2023: 5 Speeches That Moved Our Hearts
Actress Marsai Martin encouraged the younger generation to user their voice while accepting the "Young Star" award at last year's ceremony.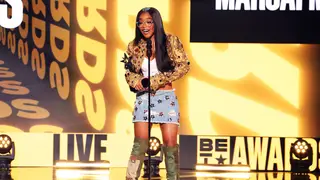 The 2022 BET Awards was a night of glitz, glamour, and exceptional performances that left the audience in awe. However, the winners' speeches were just as noteworthy as the rest of the show. From heartfelt messages of gratitude to powerful calls for social justice, the winners used their platforms to make an impact. Here are five of the best winning speech moments from the BET Awards 2022  that captured our attention and moved our hearts.
Diddy receives Lifetime Achievement Award

During the 22nd annual ceremony, Bad Boy founder and hip-hop mogul Sean "Diddy" Combs accepted the well-deserved Lifetime Achievement Award for his contributions and influence in the entertainment industry. Kanye West and Babyface presented the accolade.

The industry veteran enjoyed the honor before dedicating the award to his mother, Janice Combs.

"Today is not about me. today's about my mother," the entertainer shared. Speaking to his mother directly, he continued, "Mom. I love you. This is your day."Diddy told an inspiring story about how his mother worked several jobs to help support their family before blowing sweet kisses to the Combs matriarch.

Jazmine Sullivan accepts "Best Female R&B/Pop Artist"

While accepting the award for "Best Female R&B/Pop Artist," singer and songwriter Jazmine Sullivan spoke directly to the men listening in the audience and at home to support women following the Supreme Court's reversal of Roe v. Wade, a hard blow in the fight to protect women's reproductive rights.

"If you have ever benefited from a woman making one of the toughest decisions of her life ― to terminate a pregnancy ― you need to be standing with us," she bravely stated. "This is not just a woman's issue. This is everybody's issue. We need your support more than ever, okay, fellas. Y'all got us? We've got y'all. You all have got us? Thank you so much."

Latto wins "Best New Artist"

During last year's ceremony, rapper Latto fought back the tears as she accepted her first major award, taking home"Best New Artist." In her speech, the "Big Energy" addressed the overturn of Roe V. Wade, declaring, "It's giving boss b**ch."  She added, "It's giving pro-choice. It's never giving a man policing my body."

Tems wins "Best International Act"

Singer and songwriter Tems inspired us all while accepting the award for "Best International Act." The "Free Mind" singer dedicated the award to young women everywhere, stating, "Where I'm from, things like this don't happen… where I'm from Lago, Nigeria."

She added, "This is a dream and as you're watching me, I want you to imagine yourself as me because you are meant to be here too. "

Marsai Martin Win the "Young Stars" award

Little star and producer Marsai Martin encouraged the younger generation to use their voice for change as she accepted the "Young Stars" awards for her contributions to the industry.

"Listen, us young people, we have to continue to use our voice… use our power," she said.