Analysis: How Are Black People Positioned For A Second Biden Presidential Campaign?
The president announced he's running again in 2024. But with Black people playing such an important role the first time, will he acknowledge that the second time?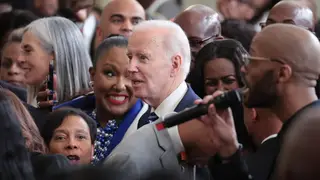 In February 2020, Joe Biden came to Charleston, S.C., and spoke to a packed room of people at the College of Charleston who he hoped to convince to make him the leading Democratic candidate in the presidential election that year.
He brought up the deadly racial violence at Charlottesville, Va., in 2017, which then-president Donald Trump was criticized for blowing off, and saying there were "very fine people on both sides." For sure, it was something that shook Black people whose grandparents remember similar racial violence that terrorized their families. Although the crowd in the auditorium was mostly white, quite a few Black people were in attendance, some supporters, others curious.

It really wasn't clear who people would support. Biden was not necessarily the favored candidate and he was up against a large field of candidates vying to defeat Trump, who had people feverishly wishing for his exit.  But it was clear what the former vice president had to do: He was tasked with convincing Black voters that he would be better for them than the others. The African American vote was crucial, as was the endorsement of veteran congressman Rep. James Clyburn.

I spent the week before the South Carolina Democratic primary crisscrossing Charleston, talking to people in restaurants, barbershops and at political rallies where the candidates were making appearances. Black voters did not seem that sure of who they would support, and many told me they were apathetic.
But by the end of that week, Clyburn, holding all the marbles in his hands, announced that he would endorse Biden.  This meant something significant: Clyburn, who had a long, reverent history in the Black community was a strong political voice. With his endorsement, Black voters felt comfortable supporting Biden in the primary, which he won handily. That momentum swept him to the Democratic nomination and eventually the White House.
So ultimately it was the Black vote that put Biden where he is. Now, four years later, a sequel of sorts is developing. Not quite the same – the Democratic field consists only of the president so far,  while the Republican field includes Trump, former South Carolina Gov. Nikki Haley and several others, including a possible Sen. Tim Scott, who has formed an exploratory committee.

Historically, Black voters overwhelmingly vote Democrat, and that is unlikely to change in the 2024 presidential election, but while he'll likely be the party's nominee, that doesn't mean Black voters can guarantee a second win. Polling has swung back and forth as far as how African Americans view Biden.
For example, while it's true Black support for Biden dipped as much as eight percent, according to a May 2022 Washington Post/Ipsos poll, on the other hand, a HIT Strategies poll showed that 59 percent of Black voters felt Biden should run again. That same poll showed that 74 percent of Black men and 75 percent of Black women approved of Biden's performance in office.

So with such heavy support, how should Black people make their voices heard in a second Biden-Harris administration?
Anjuan Seawright, a Democratic political strategist and frequent political contributor to BET.com, has one perspective on that. He said that Biden has been more progressive toward Black people from a policy standpoint than any previous president in his memory, including Barack Obama. Still, he feels African Americans should ask not just how the administration will continue its work, but how things can be lifted to a new level.

"I think the president has to focus on style and substance," Seawright said, noting how policies like the American Rescue Plan have benefitted Black people. "When I think about where we are going and where we could go given the opposition, I don't know a better team than Biden-Harris."

But Biden is not without his critics as well. The "you ain't Black" gaffe that went viral was an invitation to his critics to say that he was pandering for Black votes. Other critics have said that Biden is really part of a Democratic political machine that takes African Americans for granted, but does not deliver much change.

But Seawright reminds voters that with bringing on Kamala Harris as his running mate and nominating Ketanji Brown-Jackson to the Supreme Court and other Black cabinet and administration appointments, Biden is serious about equity for African Americans.

"I think he's demonstrated that he's a transitional president, but also that he wants to show people how to lead."

In a new video announcing his candidacy, released Tuesday (April 25), Biden doesn't focus on any particular accomplishments, but rather the alternative if Trump or any other Republican is elected. Images of the Jan. 6 2021 U.S. Capitol riot, mentions of book bans, the gutting of abortion rights,  and hindering voting rights were all used to drive home a message that the alternative would be an increase of the divisiveness that America is experiencing.

Despite all that, Black voters should not worry about how they are positioned for a second Biden term, but rather how Biden is positioned to benefit them. There are still major issues around gun violence, inflation, health care, environment, maternal mortality, mental health and other issues that are a constant challenge to Black people. No president can solve every problem, but they can at the very least do their best to remove obstacles to those problems being solved.
"Let's finish the job," was the theme of his first campaign video. But with Black voters representing an increasing share of the votes needed by Democrats, the best question to consistently ask is how much of that job will mean solutions for them.