This Week In Good Black News: Da Brat Throws An Epic Baby Shower, Jeannie Mai-Jenkins Surprises Jeezy And VP Kamala Harris Shares A Hug With Brittney Griner
Plus, LSU star Angel Reese keeps winning and we are here for it.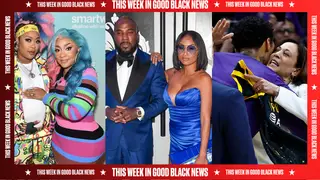 While we are all reeling from the heartbreaking news earlier this week of the legendary Tina Turner passing away at 83 years old, we are grateful to have had her dynamic legacy of music that will forever live on. It's obviously been a rough seven days, but if you need some news this week – that doesn't include banning iconic poems or anti-climactic announcements to run for president – then we've got you. 
Here is "This Week in Good Black News."
Ciara And Russell Wilson Celebrate Future Zahir's Ninth Birthday

Ciara and her husband, NFL star Russell Wilson, took to social media to salute their eldest son, Future Zahir, who recently turned 9.  Future is the son of Ciara and her ex, rapper Future. "My 1st Born! My life was forever changed when I had you," Ciara, 37, wrote. "I'm so proud of the young boy you are becoming every day! So loving, talented, compassionate, anointed, and smart." She added, "The Big 9!! Happy Birthday, Big Boy! Mommy loves you so much!"  In a separate post, Wilson wrote to Future calling him a "young King." It's heartwarming to see how much love is surrounding this young man. 

Brittney Griner And Vice President Kamala Harris Share A Hug

On the evening of May 19, Brittney Griner returned to the basketball court for the Phoenix Mercury playing against the Los Angeles Sparks. Vice President Kamala Harris met Griner in the locker room and said in a now viral video, "You have inspired so many people. And for you to be back on the court, it's so incredible. And for all the people that look like us and need to know nothing is going to knock you down — that's good." The Sparks defeated the Phoenix Mercury, but it was still a beautiful moment shared between the Vice President and the WNBA star, who was released from Russian custody five months ago.

Jeannie Mai-Jenkins Surprises Jeezy With A Trip To Vietnam

Love is in the air for Jeannie Mai-Jenkins and her husband, Jeezy. The former The Real co-host surprised him with a trip to Vietnam that was over half a year in the making for their second wedding anniversary. Mai-Jenkins, 44, (who is of Vietnamese descent) told PEOPLE, "Taking my husband, Jeezy, to Vietnam was a long awaited adventure. When Jeezy and I met, we bonded over the similarities and differences of our cultures. Now that we have a daughter blending our worlds, it gives even more meaning to explore Vietnam together as a multicultural family." 

Da Brat And Her Wife Jesseca 'Judy' Harris-Dupart Throw An Epic Baby Shower

Da Brat and her wife, Jesseca "Judy" Harris-Dupart held an epic baby shower to celebrate their first child together. The Minion-themed event included yellow and blue decorations provided by Atlanta-based event planner Elly B Events. "Maaan I am STILL on a cloud! Our little Minion baby shower was soooo BEAURRRRTIFUL. OMG From the decor to the delectable food to the decadent desserts to the FABULOUS FAMILY & FRIENDS who came out to my wife's a** in the air twerking to the delicious specialty drinks," Brat wrote on Instagram, sharing a video recap. The 49-year-old rapper is carrying their son, who was conceived via sperm donation.

Patti Labelle Turns 79 Years Young

On May 24, the legendary Patti LaBelle turned 79 years old. Miss Patti is a living legend who is currently on tour, famously kicking off her heels while performing to sold out venues. Everyone from Stephanie Mills to Sheryl Lee Ralph sent her happy birthday wishes via social media. BET wanted to send her some love her way on her special day and was delighted to see her response. See the tweet above.

Maxwell Turns The Big 5-0

Another big birthday happened this week. On May 23, Maxwell, the smooth Grammy Award winning singer, once-classified as part of the Neo-Soul movement of the 90s, turned 50 years old. The crooner was born Gerald Maxwell Rivera on May 23, 1973, in the East New York section of Brooklyn. He had his big break with the 1996 album, "Maxwell's Urban Hang Suite." Since then, Maxwell has continued to wow us with his sultry voice, powerful lyrics, and magnetic style. It's the reason why he received the Living Legend Award during the BET Soul Train Awards 2021, See Maxwell's Soul Train Awards performance above.

Magic And Cookie Johnson Will Be Honored With Elizabeth Taylor Commitment To End AIDS Award

The Elizabeth Taylor AIDS Foundation (ETAF) announced this week that they will honor Earvin "Magic" Johnson and his wife, Cookie Johnson at the fourth annual Elizabeth Taylor Ball to End AIDS on Sept. 21. The Johnsons will receive the Elizabeth Taylor Commitment to End AIDS Award. Since Magic Johnson's HIV-positive diagnosis in 1991, he has been a fierce advocate for HIV awareness. The noteworthy award is named after legendary Hollywood actress Elizabeth Taylor who was an early advocate in the fight to stop the stigma around HIV/AIDS. Huge congrats to the Johnsons!

'Love Marry Kill' On BET+

Need something to make your Memorial Day even more memorable? Grab a cold beer, a plate of fried fish, and auntie's potato salad, and press play. Love Marry Kill on BET+ is about to keep you occupied. Set in New Orleans, the thriller follows Jordan Toussaint (Monique Coleman) who returns home after the mysterious death of her best friend. While there, Jordan gets caught up in past relationships and a deadly web of secrets and deception, all while trying to use her skills as a forensic pathologist to find out what really happened. 

Gina Prince-Bythewood And Hakeem Jeffries Will Be Honored By The Motion Picture Association

According to Variety, Motion Picture Association will honor director Gina Prince-Bythewood and House Minority Leader Hakeem Jeffries at next month's award ceremony in Washington, D.C. Prince-Bythewood, who is known for classic films like "Love & Basketball" and "The Woman King," will receive the MPA Creator Award for her directorial work. Jeffries is receiving the MPA Industry Champion Award due to his advocacy for federal agencies and laws that protect independent artists and media from exploitation. Congrats to them both!

Angel Reese Lands A New Deal

LSU star Angel Reese just keeps winning. She is now the ambassador of Mielle Organics, which is a line of natural hair care products. Reese said on Instagram, "Athletes are the ideal beauty icons and brand ambassadors. I put it out there that I wanted to work with more beauty brands, and I'm so excited to be working with Mielle! I'm a longtime user and fan of the brand, so this is the perfect partnership. I can't wait to share more with my fans and introduce my new Mielle bundle. The last several months have been a whirlwind. I feel really blessed."