Poll Shows Black Voter Frustration With Democratic Party
The battleground states survey suggests Trump could win a high percentage of disgruntled Black voters.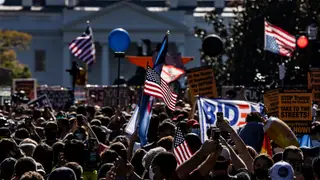 A New York Times and Siena College poll released Sunday (Nov. 5) suggests that Black voters in crucial swing states are drifting toward former President Donald Trump, sending an early warning sign to Democrats that they could lose the White House next year.
According to the poll, 22 percent of Black voters would back Trump, who won 8 percent of the Black vote in 2020, The New York Times reports. Biden would get 71 percent of the Black vote.
The poll survey registered voters in Arizona, Georgia, Michigan, Nevada, Pennsylvania and Wisconsin.
It would be a historic shift if the figures hold. Since the civil rights era, no Democrat running for president has won less than 80 percent of the Black vote, and no Republican running for the White House has received more than 12 percent in nearly 50 years.
Black voters said they were disappointed with the Biden administration's progress toward achieving their legislative priorities, including student loan debt relief, affordable housing and police reform.
But 80 percent of Black voters surveyed rated the economy as "only fair" or "poor."
Biden's 2020 campaign pollster Celinda Lake told The Times that the president's team has failed to communicate what the administration has delivered to the Black community.
"We have to get the numbers up and we have to get African American voters out to vote, and we have to get the numbers up with young people and we have to get them out to vote," Lake said.
While the survey indicates Biden has also lost support among Latinos and young voters, Democratic strategists are particularly concerned about the erosion of support among Black men, who backed Trump by 27 percent compared to 17 percent for Black women in the new survey.
Former Obama pollster Cornell Belcher told The Times that disheartened Black voters are unlikely to vote for Trump. He fears that they will sit out the 2024 election.
Biden's campaign acknowledged to The Times that it faces an uphill climb to regain the Black vote before it's too late. To that end, there's good news. About 25 percent of Black voters are still open to supporting Biden.
The Times/Siena poll isn't the first warning sign to Biden's camp about the Black vote.
In July, The Washington Post reported that Democratic party leaders were alarmed that the 2022 midterm elections saw a 10 percent decline in Black voter turnout compared to the 2018 midterms.
To address that challenge, the Congressional Black Caucus launched a super PAC to mobilize Black voters. The Rolling Sea Action Fund plans to raise money and invest in ads and campaigns in the upcoming election cycle to help Democrats flip at least the five seats they need to become the majority party in the House.