Biden Calls For Stand Against White Supremacy At Howard Commencement, But Meets Protest
Vigilance is needed because hatred never goes away, said Biden. However, a handful of students protested his speech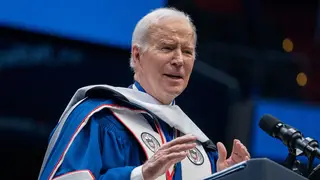 President Joe Biden told Howard University's graduating class on Saturday (May 13) that the nation is in a battle for its soul and must "stand up against the poison of white supremacy," adding that the class of 2023 is "the reason I'm so optimistic about the future."
The president delivered his commencement address after receiving an honorary Doctor of Letters degree from the historically Black university. At times, Biden, who is running for a second term, sounded like he was on the campaign trail, pointing to his accomplishments in office and to unachieved policy promises. During his speech, a handful of students turned their backs on Biden and held up signs in a silent protest.
Biden recounted the story of what motivated him to run for the presidency in 2020. He said after Barack Obama, the nation's first Black president, was reelected to office he "hoped that the fear of violence and hate was significantly losing ground." But then the 2017 white supremacist rally of "crazed neo-Nazis with angry faces" and Klansmen in Charlottesville, Va., reminded him that hate never goes away but "only hides under the rocks."
"And what did you hear?  That famous quote.  When asked about what happened, that famous quote. 'There are very fine people on both sides,'" Biden said, alluding to former President Donald Trump's defense of the Charlottesville rally.
So far, the 2024 race for the White House is shaping up to be a rematch between Biden and Trump. Quinnipiac University's survey of Republican voters shows Trump leading the GOP primary field of declared and undeclared candidates with 46 percent of support, CNBC reports.
White supremacy terrorism
Biden said white supremacy is "the most dangerous terrorist threat to our homeland," calling for a united response to "stand up against the poison of white supremacy." The president urged people of all ethnic and racial backgrounds to "call out political violence that has been unleashed and emboldened." He pointed to the rash of bomb threats that HBCUs received over the past year.
2023 class to shape future
Biden said he's optimistic about the future, noting that no graduating class chooses the world they're entering. But the class of 2023 is one of those few generations that enter "at a point in our history where it actually has a chance to change the trajectory of the country," he said, adding, "I know you will meet the moment. …you're the reason I'm so optimistic about the future."
Black women delivered for Biden at the polls in the 2020 presidential election. More than 90 percent of them voted for Biden and were on the front lines registering voters and protesting voter suppression.
Many are graduating with huge student loan debt, and Biden wanted the graduating class to know that he's making every effort to help.
"My student debt relief plan would help tens of millions of people, especially those on Pell Grants. Seventy percent of Black college students receive Pell Grants.  Many of you, the savings would be significant and even wiping out student debt completely for some," Biden said.  "But -- this new Republican Party is dead set against it, suing my administration to stop you from getting student debt relief."
The Biden administration is waging a legal battle to defend the constitutionality of its program that would cancel up to $20,000 of debt for approximately 40 million people, including Black borrowers who are burdened with a disproportionate amount of federal student debt.
During his speech, about 12 students in the graduating class, wearing caps and gowns, protested what they said were many forms of white supremacist violence, the Associated Press reported.
With their backs turned to the president, some of them held signs voicing their concerns, including one about Jordan Neely, the homeless Black man killed by Daniel Penny who applied a chokehold to his neck May 1 on a New York City subway car. Prosecutors charged Penny Friday (May 12) with second-degree manslaughter.
"We as graduates stand united for change, for Black Lives globally," the students said in a statement, according to the AP.
The Daily Beast reports that another sign read, "Turn your back to Biden. DOD research is complicit in imperialism" and another that criticized the president and Vice President Kamala Harris.
Divine Nine: 'where the real power is'
During his speech, Biden sent a shout out to the Divine Nine, the nine historically Black Greek-letter fraternities and sororities.
He said, "I'm also proud to say that we're the first White House to formally convene where the real power is: the Divine Nine. Oh, you all – you all think I'm kidding?  Not a joke. The Divine Nine not only has a seat at the table, we definitely hear you at the table. And they're, first time ever, at the White House permanently." Vice President Kamala Harris joined Alpha Kappa Alpha sorority while she was a Howard student.
Biden has turned to the Divine Nine and their alumni, an influential political and economic force in Black communities nationwide, to help push his voting rights and police reform agenda.
Speaking at a Black history month event this year, Biden said he's long-known about the Divine Nine's influence.
"I may be a White boy, but I'm not stupid. I know where the power is," Biden jokes. "I learned a long time ago about the Divine Nine. That's why I spent so much time at Delaware State (University) campaigning and organizing my campaign."