Poll: Most In U.S. Say Race Should Be Considered In College Admissions, But To A Lesser Extent
The Supreme Court is expected to rule soon on college affirmative action admissions.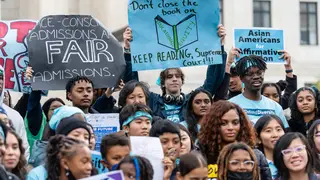 About 63 percent of the 1,680 adults surveyed said the high court should not block colleges from considering race or ethnicity for admissions decisions, the poll found. At the same time, 68 percent said considering race or ethnicity should be a low priority.
High school grades topped the list (62 percent) of the eight "extremely/very important" factors for college admissions administrators to consider. Standardized tests, including the SATs, placed second (47 percent) on that list. Race or ethnicity was fourth at 13 percent.
Unsurprisingly, Democrats and non-white respondents said race and ethnicity should be "extremely/very important" in the admissions process: 17 percent of Democrats compared to 8 percent of Republicans, and 28 percent of Blacks and 21 percent of Latinos compared to 9 percent of whites.
However, there was more agreement along racial lines among those who said race or ethnicity should be "somewhat" important: 20 percent of whites, 18 percent of Blacks and 13 percent of Latinos.
Last fall, the high court heard oral arguments in cases that challenged affirmative action admissions policies at Harvard University and the University of North Carolina, which use race and ethnicity among other factors. The court is expected to rule soon.
Many experts predict, given the conservative majority of the current Supreme Court bench and its gutting of Roe v. Wade, affirmative action will be the next to fall. If it does, the landscape of college admissions will change dramatically and many schools may lose gains in diversity that have been hard-fought over the years.
College affirmative action opponents argue that using race or ethnicity as a factor is unfair.
In the Harvard case, a group called Students for Fair Admission accused the school of holding Asian-American students to a higher educational standard than it does African American or Latino students.
"Harvard engages in racial balancing and ignores race-neutral alternatives also proves that Harvard does not use race as a last resort. All of this makes intervention that much more urgent," the court filing for the plaintiff reads.