Without Black People...There Would Be No Fashion Trends
Learn how impactful our Black history has been on the world.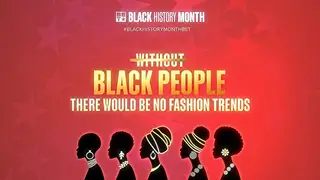 Without the Black Fashion Pioneers, The Industry Wouldn't Be As Fabulous

Without Grooming From Black Stylists and Designers, Celebrities Would Not Be As Fly

After years of illegally using luxury brand logos to create hot-to-death garments, the couturier Dapper Dan, partnered up with Gucci and The Gap to create his own clothing lines.

Dapper Dan has dressed everyone from Salt-N-Pepa,and LL Cool J, to Mike Tyson and Salma Hayek.

Winner of the prestigious CFDA/Vogue Fashion Fund Award among other accolades, designer Christopher John Rogers, known for his use of bold prints and bright colors, blew up after Cardi B wore one his coats to the BET Hip Hop awards. Rogers has also dressed Lizzo, Rihanna and Kamala Harris.

Black people have been immersed in costume design from way back to the days of black-and-white films. From Mildred Blount, the first Black member of the Motion Picture Costumers union, who designed the hats worn by Scarlett O'Hara in Gone with the Wind to Black Panther's Academy Award-winning costume designer Ruth E. Carter.

Award-winning, trendsetting creative director and costume designer to the stars, June Ambrose has styled music videos for Missy Elliott, P. Diddy, and Mary J. Blige, and others who are counted among her star-studded clients.

Without Black Influence, Fashion Accessories Wouldn't Be In Such High Demand

Black and mixed-race women turned the Tignon Laws of 1786, that demanded they wear head wraps so as to not attract white men, into a fashion statement. Soon French white women were following suit and wrapping their hair.

Similar to the Hermès leather bag, the cult-like following of people here and abroad coveting Telfar Clemens' "Bushwick Birkin" vegan-leather bag are still waiting for their lucky break. The bags sell out within minutes of a restock.

Founder and CEO Robyn Rihanna Fenty launched her Fenty Beauty makeup line in 2017. Her fans and makeup consumers can't get enough. The company made $100 million in its first month and $550 million in annual revenue after the first year. Today, Fenty Beauty is estimated to be worth around $2.8 billion.

Without Talented and Determined Black People in Fashion, The Industry Would Be Predominantly White

The late Virgil Abloh was Louis Vuitton's first African American artistic director, in charge of the luxury brand's menswear collection. Abloh brought the magic, as an award-winning designer, who started his career at Fendi and worked as creative director for Kanye West in 2010.

AFROPUNK and Shopify launched a Black Fashion Accelerator Program in 2021. The program mentored nine Black founders on how to run a successful business in an industry that is not always so welcoming.

Unhappy with the lack of representation in the industry, the Black in Fashion Council members are doing something about it by creating a formal way to measure diversity within the industry and partnering with instrumental companies to help move under-resourced Black designers and fashion entrepreneurs ahead.