The BET 100 Entertainers And Innovators Of The Year List
Our homage to this year's remarkable Black star power starting with our top 10.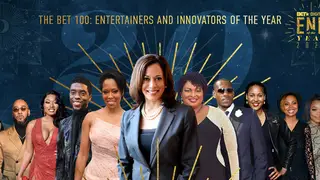 From a deadly global pandemic, to a national movement against racial injustice, to a nail-biting election that put an end to the Donald Trump presidency—2020 has been the most tumultuous year in modern history. It's a year many will be thankful to put in their rear-view mirror. Yet, despite the darkness, we're celebrating the light. Black America remained resilient and continued to stand up, speak out, create, and lead as we elevated the culture through sports, politics, music, film, TV, social media, business, advocacy, and activism. 
Here is an homage to the Black Star Power we call The BET 100 of 2020.
Vice President-Elect Kamala Harris

Since Donald Trump's election in 2016, many around the world have been awaiting this day. The Joe Biden-Kamala Harris victory symbolizes more than a return to decorum, diplomacy, and decency. The first female, first Black and first Indian-American Vice President is perhaps the best symbol of how great American truly can be. 

The Oakland native and Howard University alumna will occupy the second-most-powerful office in the world, and hopes are high that the divisive, racist, and sexist culture of the Trump Administration will finally come to an end. Harris, a former senator, has a record of criminal justice reform and understands how it affects Black communities. She's also the daughter of immigrants, giving her a personal connection to one of the most controversial issues in the country. 

"Now is when the real work begins," Harris said during  her victory speech. "The hard work, the necessary work, the good work, the essential work to save lives and beat this epidemic. To rebuild our economy, so it works for working people. To root out systemic racism in our justice system and society. To combat the climate crisis. To unite our country and heal the soul of our nation."

Stacey Abrams

Regina King

Her acting chops are undeniable: Regina King earned an Oscar in 2019 and this year clinched a fourth Emmy for her role on HBO's Watchmen. Now it seems she is primed for just as much success behind the camera. 

King made her feature film directorial debut with One Night in Miami. Based on a play of the same name by Kent Powers, it imagines an evening on the town with Muhammad Ali, Malcolm X, Sam Cooke, and Jim Brown after Ali's first World Heavyweight Championship win in 1964. It's the first movie directed by a Black woman to premiere at the Venice Film Festival and is already the talk of awards season. King is now developing the supernatural series, Slay, for The CW, and will star alongside Idris Elba in the all-Black western thriller, The Harder They Fall. 

The 49-year old has also made use of her high-profile platform to support pet causes, such as partnering with Vaseline to bring awareness to the healthcare system inequities in Black and Latino communities. "Everything I've ever approached, I've approached powerfully," she told People magazine in September. "For me, life has been a series of breakthrough moments. I pray that never ends."

Chadwick Boseman

Chadwick Boseman built a career portraying a series of icons, probably never realizing he would become one himself. The world was left grief-stricken when the actor quietly succumbed to colon cancer on August 28th at the age of 43.

He first got our attention for star-making turns in the films 42, Get on Up, and Marshall, but it was the role of T'Challa in Black Panther that cemented his place in the hearts and hopes of children and adults the world over. It's hard to believe Boseman filmed countless scenes while undergoing chemotherapy and surgery, never revealing his struggle to friends, fans, or industry peers. He had a singular focus: giving every character he played a sense of humanity, empathy, and dignity on-screen. 

Boseman's 2020 releases—Spike Lee's Vietnam-themed Da 5 Bloods, and a revival of August Wilson's Ma Rainey's Black Bottom, directed by Tony-winning theater legend George C. Wolfe—have received high praise. Critics say his stellar performances could earn him a posthumous Oscar nomination. "Chad knew something we all didn't," Black Panther director Ryan Coogler said in his tribute. "He was playing the long game. All while putting in the work. And work, he did." Boseman is an irreplaceable talent that will forever be missed. 

Megan Thee Stallion

It's been a wild year for the femcee. Megan Thee Stallion teamed up with fellow Houston heavyweight Beyonce for the "Savage" remix, then scored an even bigger hit with the CardiB collab "WAP." And if that wasn't impressive enough, she also tied with Drake and Justin Bieber for most award nominations at the BET Hip Hop Awards and People's Choice Awards, and landed the cover of this year's  TIME's 100 Most Influential People.

But it wasn't just career highs that earned Megan Thee Stallion headlines. This summer, she was shot in the foot, allegedly by rapper Tory Lanez, who denies the accusation. Adding insult to injury, social media trolls weighed in, calling her a liar. Then the sexually charged "WAP" earned her just as many critics as fans. The backlash inspired the rapper to pen a gut-wrenching op-ed in The New York Times. Black women are stereotyped as "angry or threatening when we try to stand up for ourselves," she wrote. "We deserve to be protected as human beings. And we are entitled to our anger about a laundry list of mistreatment and neglect that we suffer."

Still, she ended the year on a triumphant note by dropping her debut LP, Good News, in November to fantastic reviews. The album debuted at number one on the Billboard R&B/Hip Hop Album chart cementing her as the most impressive lyricists, man, woman or otherwise, of the year. 

LeBron James

LeBron James had another awe-inspiring year with the L.A. Lakers. The 16-time NBA All-Star earned his fourth NBA championship and finals MVP distinction during the season that included an unprecedented three-month bubble. His reward? A reportedly two-year contract extension said to be worth $85 million. And yet, the accolades go way beyond his Tomahawk Dunk. 

Two years after Fox host Laura Ingraham told James to "shut up and dribble" when he expressed his opinion about President Trump, the basketball star is more vocal than ever. James became the face of More Than a Vote, a collective of athletes who advocated for Black voters to become more politically literate and engaged. The celebrated Laker even partnered with Michelle Obama's When We All Vote nationwide to help communities of color get to the polls.

The 35-year-old Olympic gold medalist and People's Choice Award recipient is also growing a media empire with his The SpringHill Company, which recently signed a four-year deal with Universal Pictures and is releasing a documentary with CNN Films on Black Wall Street. Another passion of King James is the issue of education. Feeling for the millions of high school seniors missing out on ceremonies because of the pandemic, the founder of the Akron, Ohio-based I Promise School hosted the virtual Graduate Together: America Honors the High School Class of 2020. Simulcast across major networks and social media platforms, he told students, "Now it is time to chase every dream, accept every challenge, strive for greatness, honor every promise and recommit to your community."

Maya Moore

Twenty years after being sentenced for a crime he did not commit, Jonathan Irons walked out of a Missouri prison in July. It was the dedication of WNBA player Maya Moore who helped secure his freedom. The Minnesota Lynx forward and four-time WNBA champion has taken a two-year break from basketball to focus on her Win With Justice organization, which advocates for criminal justice reform. Moore first met Irons in 2007 while working with the prison ministry. She was astonished that Irons, 16 at the time of his trial, was convicted without fingerprints, footprints, or DNA evidence linking him to the crime. Her advocacy helped get his case reviewed, and it was ultimately overturned. But it wasn't just a passion for justice that inspired Moore. 

Two months after Irons' release, the pair tied the knot.  

"When I stepped away [from sports] two springs ago, I just really wanted to shift my priorities, to be able to be more available and show up for things I felt mattered more than being a professional athlete," the two-time Olympic gold medalist told Robin Roberts on Good Morning America. "This is one of the biggest and direct results of that."

Yet the couple's work is far from finished. They lead the Get Out the Vote campaign, which informs local communities on how their participation influences the outcome of those wrongfully convicted. While it is unclear when she will return to the basketball court, Moore remains committed to her mission to change how minorities and the poor are treated by the justice system.

Swizz Beatz and Timbaland

When the pandemic put a pause on concert tours in March,  Swizz Beatz and Timbaland debuted Verzuz, where musicians face off on Instagram Live. The Grammy-winning super-producers were the first to battle it out with their biggest hits, and the concept quickly became a cultural phenomenon, enlisting the biggest names in R&B, hip-hop and reggae to join the lineup. Pairs including Nelly and Ludacris, Brandy and Monica, Erykah Badu and Jill Scott, 2Chainz and Rick Ross and Snoop Dogg and DMX all went head-to-head with two rounds, 10 songs each. 

The show, which won the Webby Awards Break the Internet category, even produced some unexpectedly comedic (and viral) moments, such as the all too memorable  memes of Teddy Riley's technical issues with Babyface. The recent mashup between Jeezy and Gucci Mane (with special guest Stacey Abrams) broke the all-time livestream viewership record, with more than nine million people watching around the world.

More than just entertainment, Verzuz is a reminder that Black music has the incredible power to still bring millions of people together, even while confined to their homes.

Underground creator and executive producer Misha Green took her love of history, combined it with fantasy and pulp fiction, and delivered her magnificent, breakout HBO hit, Lovecraft Country. 

The graphic novel-style series is adapted from the 2016 book by Matt Ruff and tells the story of two Black families in 1950s Jim Crow America who battle both racist Whites and supernatural monsters. As otherworldly and weird as the episodes can be (one featured time travel and another, a Freddy Krueger-inspired child menace), Lovecraft Countrypoignantly explores themes of bigotry, sex, class, identity, masculinity, war, and mental health. 

Executive-produced by Jordan Peele and J.J. Abrams, featuring music by Raphael Saadiq, Lovecraft Country followed each episode with a podcast where the writers shared the historical influences on the show and how they relate to current happenings in America. "You always want your art to be speaking to the moment, to the times, to what is going on," Green told The Hollywood Reporter. "For this to show to come right now, I hope it's adding more to the conversation and I hope more conversations are happening because of it."

Known before the camera for the past seven seasons as the no-nonsense Diane Johnson on ABC's Black-ish Marsai Martin is the silent force making all kinds of moves behind the camera as well. So much so that she has become one the few Black actresses to now be listed in the Guinness Book of World Records.

The 16-year-old star and executive producer of the 2019 film, Little, is the youngest E.P. for a major Hollywood film in history. The blockbuster comedy tells the story of a tech mogul that's transformed into a teenaged version of herself. Little also stars Issa Rae and Regina Hall and is produced by Will Packer and Kenya Barris

"Y'all...I done broke a record [emoji]. What an amazing honor," Martin tweeted. "Who knew Little would be historic?"

Martin also graced the inaugura cover for Essence Magazine's vertical Girls United and is one of the hosts of Netflix's children's book series Bookmarks: Celebrating Black Voices. Most recently, the young mogul announced a partnership with Walden Media to adapt Ingrid Law's Newberry Medal-winning fantasy novel Savvy into a television series: giving GenZ Black girls a strong role models letting them know they can do anything they want to do in Hollywood. 

With our 10 Titans of the year above, check out the rest of the 2020 BET 100 list below... we're just getting started.