Memphis Officer Involved In Tyre Nichols Arrest Will Not Face Charges
Preston Hemphill was at the scene during the traffic stop but was never present when Nichols was fatally assaulted.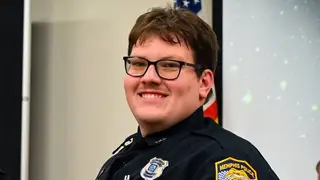 Preston Hemphill, a former Memphis police officer will not face criminal charges for his role in the traffic stop that led to the death of Tyre Nichols, CBS News reports.
Steve Mulroy, District Attorney of Shelby County in Tennessee ruled that although Hemphill was at the scene during the traffic stop, he was not present when Nichols was fatally assaulted by the other officers.
"By no means do we endorse the conduct of Officer Hemphill at that first traffic stop," Mulroy said of his decision. "But we do not believe that criminal charges are appropriate."
Mulroy also stated that the ruling was reached following hours of testimony from Hemphill and hours of body camera footage that was researched by law enforcement.
"Justice doesn't mean a witch hunt. Justice doesn't mean we charge every single person," prosecutor Paul Hagerman added.
Nichols' family attorney Ben Crump, agreed with the decision not to press charges, along with the family and released a statement in response to the ruling.
"We understand that this individual has been fully cooperating with the investigation and has promised to provide substantial cooperation going forward," Crump's statement read. "In light of this, we are supportive of no charges for this individual.
"It is our deepest hope and expectation that justice will be served fully and that all who had a role to play in this senseless tragedy will be held accountable," the statement continued.
On January 7, 2023, Nichols was brutally assaulted by five officers after being pulled over for alleged reckless driving, He died from his injuries three days later.
According to the police footage that was viewed by his family,  just days before the public release, officers used stun guns to shock Nichols, forcibly restrained him, pepper sprayed him, and physically assaulted him while he was unarmed.
Hemphill is the only one of the officers linked to the incident that resulted in Nichols death who is White. The five Black officers, Tadarrius Bean, Demetrius Haley, Emmitt Martin III, Desmond Mills Jr., and Justin Smith, who was seen on the police camera footage, have all been charged with second-degree murder, aggravated assault, aggravated kidnapping, official misconduct and official oppression.