Los Angeles Street Will Be Renamed After Kobe Bryant
The Lakers legend would have turned 42 on Aug. 23.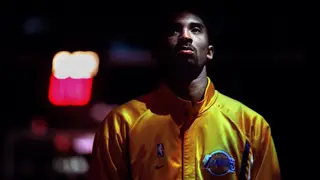 After honoring what would have been Kobe Bryant's 42nd birthday on Sunday (Aug. 23) and continuing to commemorate his legacy with "Mamba Week," a Los Angeles City Councilman has confirmed that the late Lakers superstar will have a street renamed after him. 
On Monday (Aug. 24) City Councilman Herb J. Wesson Jr. announced on Twitter that a portion of Figueroa Street near the Staples Center will be renamed Kobe Bryant Boulevard. 
"Figueroa Street will soon be Kobe Bryant Boulevard between Olympic (Boulevard) & (Martin Luther King Jr. Boulevard)," Wesson tweeted. "Kobe's legacy is bigger than basketball. #KobeBryantBlvd will be a reminder to everyone, young and old who drive down it, there is no obstacle too big and that with the #Mambamentality, anything is possible." 
It is unclear when the renaming will occur.
August 24th was also declared "Kobe Bryant Day," thanks to Orange County Officials, who promised to make the five-time NBA champion name reign on praising the two jersey numbers (8 and 24) that Bryant wore during his professional career. 
The Los Angeles Lakers also wore special patches and honorable "Black Mamba" uniforms designed by Nike and Bryant on Aug. 24 during their winning Monday night playoff game against the Portland Trail Blazers in Orlando. 
Bryant and his daughter, Gianna, were among nine people killed in a helicopter crash on Jan. 26, in Calabasas, Calif.