BET Awards 2023: 5 Most Memorable 'Best Male Hip-Hop Artist' Winners
Meet the guys who redefined the genre.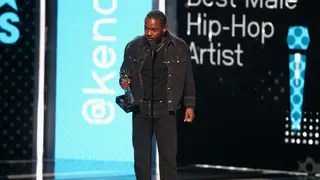 The BET Awards, the biggest celebration in Black Hollywood, have seen talented artists take home the "Best Male Hip-Hop Artist" title over the years.
From the early winners like 50 Cent, who redefined the blueprint for success in hip-hop, to trailblazers like Kendrick Lamar, who brought introspection and social commentary to the forefront, each recipient represents a unique chapter in the evolution of rap music.
As we gear up for what is set to be another fantastic celebration of Black talent, exploring the legacies of these remarkable past BET Awards "Male Hip Hop Artist" winners that have defined the genre.
50 Cent

New York rapper Curtis "50 Cent" Jackson rose to prominence in 2003 with the release of his critically acclaimed debut studio album, Get Rich or Die Tryin'. The "In Da Club" emcee beat out several talented acts, including Snoop Dogg, Nelly, mentor Eminem, and more.

T.I.

Until 2006, the "Best Male Hip Hop Artist" award was given to a New York-based emcee. T.I. ended the Up North reign when he took home the crown that year. The rapper, who played a crucial role in Atlanta's rise in rap, would defend his title the following ceremony beating out the likes of 50 Cent, Busta Rhymes, Common, and Kanye West.

Drake

Drake made his transition to music in 2006 following a successful acting career starring in the teen drama Degrassi: The Next Generation. Following the release of several mixtapes, including the critically acclaimed 2009 project, So Far Gone,  he gained a solid fan base to solidify him as the next rising star in hip hop.

After the release of his 2010 debut studio album Thank Me Later, Drake earned the title of "Male Hip Hop Artist" that same year.

Kendrick Lamar

West Cost rapper Kendrick Lamar holds the title for most wins in this category with five awards total after taking home the win at the 2022 BET Awards.  He won his first award in 2015 beating Drake, Big Sean, Common, J. Cole, and Wale.

Nipsey Hussle

Nipsey Hussle was posthumously honored with several awards during the 2019 BET Awards, including the "Best Male Hip Hop Artist" and the Humanitarian Award presented by rapper T.I. Nipsey's family accepted the accolades on his behalf.

The 2023 BET Awards premieres Sunday, June 25 at 8 pm ET/PT on BET and BET Her.