Biden Calls For Police Reform To Mark The Third Anniversary Of George Floyd's Death
"I urge Congress to enact meaningful police reform and send it to my desk. I will sign it," Biden said.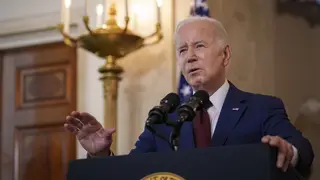 On Thursday, Biden reflected on Floyd's death and urged the federal government to take action by enacting laws that hold rogue law enforcement officers accountable.
"George Floyd's murder exposed for many what Black and Brown communities have long known and experienced — that we must make a whole of society commitment to ensure that our Nation lives up to its founding promise of fair and impartial justice for all under the law," Biden's statement read.
As his statement continued, Biden noted that he signed "an executive order which banned chokeholds, restricted no-knock warrants, and created a database for police misconduct at the federal level" last year.
"But we know that implementing real and lasting change at the state and local levels requires Congress to act," Biden said. "I urge Congress to enact meaningful police reform and send it to my desk. I will sign it. I will continue to do everything in my power to fight for police accountability in Congress, and I remain willing to work with Republicans and Democrats alike on genuine solutions."

Despite Biden's support of police reform, the George Floyd Justice In Policing Act continues to languish in Congress. Negotiations between lawmakers collapsed in 2021 over a deadlock on qualified immunity for police officers.
In addition to the federal charges, Chauvin has convicted on all counts of murder and manslaughter in April 2021.
Earlier in May, Chauvin sought to have his murder conviction thrown out claiming that the district judge who presided over the case should have moved the high-profile trial out of Minneapolis so that the former officer could have received a fair trial.
As expected, Floyd's family was taken aback by Chauvin's request for an appeal.
"I think that Derek really got all of the leniency possible with a 22-and-a-half-year sentence. Because, in my estimation, it should have been life without the possibility of parole," George Floyd's uncle, Roger Floyd said.
Chauvin is currently serving 22 years for Floyd's murder and another 21 years for violating his civil rights in a medium-security facility in Arizona.