The Year In Black Women Winning: Megan Thee Stallion, Ava Duvernay, Cyntoia Brown, Lizzo & More
19 moments Black women shook up 2019.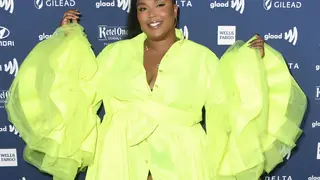 As 2019 comes to a close, we're still cleaning up the confetti left behind from all the major Black Girl Magic moments we celebrated this year! From breaking barriers in the entertainment industry to providing positivity to all, Black women proved how outstanding they are. 
With there being so many Black Girl Magic moments to celebrate, we've decided to highlight the most memorable moments of 2019 that deserve a thunderous round of applause—in no particular order!
Cyntoia Brown Began To Live Her Best Life After Being Released From Prison.

After serving 15 years of a life sentence for killing a man who solicited her for underage sex, Cyntoia Brown-Long was finally granted clemency and began to live her best life. 

Upon her release, the 31-year-old tied the knot with Christian rapper J. Long, and she shared the details of their union in her much-anticipated book, Free Cyntoia: My Search for Redemption in the American Prison System. 

The Success Of Marsai Martin's Movie, 'Little' Earned Her The Title Of Hollywood's "Youngest Executive Producer."

At 14-years-old, Marsai Martin broke glass ceilings by becoming Hollywood's "youngest executive producer" for her blockbuster film, Little, which grossed over $40.7 million in the United States. 

Lizzo Finally Got The Recognition She Deserved!

Although it took three years before her talent was recognized, Lizzo is having a serious moment after contemplating quitting music! This year, the professional singer/flutist topped the Billboard Music Charts for seven weeks straight with her self-assuring anthem, Truth Hurts— two years after its initial release. 

Beyoncé produced an anthem for "Brown Skin Girls."

The 2019 album The Lion King: The Gift was epic thanks to Beyoncé's much-needed anthem "Brown Skin Girls." 

The second collaboration between Queen Bey and her daughter Blue Ivy Carter proved to be so influential that the newly-crowned Miss Universe 2019 Zozibini Tunzi revealed that song honoring various brown skin tones in our rainbow community was in rotation every morning before her big day. 

Simone Biles Was Named 'Female Olympic Athlete Of The Year' And Historically Had Two Moves Named After Her.

Record-setting gymnast, Simone Biles was awarded the Female Olympic Athlete of the Year by Team USA. We're not surprised since the 22-year-old powerhouse became the most decorated American female gymnast, earning a total of 27 gold medals.

Keshia Knight Pulliam and Arian Simone founded their 'Fearless Fund' for Black Women in business.

Sistahs are doing it for themselves! Actress and activist, Keshia Knight Pulliam and business partner, Arian Simone created the Fearless Fund— a venture capitalist initiative to help make Black women's entrepreneurial dreams come true. 

So far the pair have Ellis Island Ice Tea, EnrichHER, and 100 Black Angels Fund listed in their portfolio. We are sure that we can expect more black excellence from these ladies in 2020! 

Ava DuVernay brought attention to the 'Exonerated Five.'

Ava DuVernay made a powerful statement by having Kevin Richardson, Antron McCray, Korey Wise, Raymond Santana, and Yusef Salaam as her dates to the 2019 Emmy Awards.

The five men, known as the "Exonerated Five," looked strong as they showed their support to the writer/director, who told their story in the limited-series Netflix original When They See Us. 

Nominated for sixteen awards, the miniseries highlighted the lives of the young boys who were wrongly prosecuted in the 1989 rape and assault of a Central Park jogger. 

Michelle Obama Donated $500,000 Of Her Book's Proceeds To Support Young Girls' Education.

Opening up about everything from her upbringing to her relationship with her presidential husband Barack Obama, the book broke some serious records selling 11.7 million copies across all formats worldwide since its publication. 

In December, Mrs. Obama vowed to donate more than $500,000 of the proceeds from her book to the Girls Opportunity Alliance in support of young girls' education across the world. We love it!

Halima Aden Became The First Muslim To Wear A Hijab In Sports Illustrated.

When Sports Illustrated dropped their Annual Swimsuit Edition earlier this year, it was a game-changing moment. Highlighting Black Somali-American model, Halima Aden, this was the first time a Muslim woman wore a hijab and burkini in the magazine. 

Rihanna Dominated The Lingerie Business By Having Her Inclusive NYFW 'Savage X Fenty' Show Televised.

Legendary Beauty Brands, Fashion Fair Cosmetics and Black Opal Became Black-Owned!

It was an iconic moment when makeup brand owners, Desiree Rogers and Cheryl Mayberry McKissack purchased Fashion Fair Cosmetics, a legendary cosmetics brand founded in 1973, from the Johnson Publishing Company. Major! 

Megan Thee Stallion Created An Entire Movement: 'Hot Girl Summer!'

Megan Thee Stallion set the internet ablaze by kickstarting an entire movement with her Hot Girl mentality. Throughout the summer, you couldn't scroll through your timeline without seeing the hashtag #HotGirlSummer, along with a photo of someone living their best life. 

In case you needed an explanation of what a "Hot Girl" is, the 5 '10 beauty explained on Twitter: "Being a Hot Girl is about being unapologetically YOU, having fun, being confident, living YOUR truth, being the life of the party, etc." 

Jordyn Woods Proved She Didn't Need Any Handouts After Her 'Red Table Talk' Interview Sparked Business Success!

Jordyn Woods had the biggest glo' up of the year! After her infamous departure from the KarJenner clan and an eye-opening interview on Jada Pinkett-Smith's Red Table Talk, the 22-year-old model kickstarted her career in successful collaborations. 

From deals with brands like BooHoo to lanching her 2nd SecndNture collection, it's no question Jordy proved she doesn't need anyone's handouts. 

Meghan Markle Spoke Her Mind And Demanded Respect From British Tabloids.

It was quite a busy year for the Duchess of Sussex Meghan Markle. From giving birth to her first child with husband, Prince Harry, to doing huge amounts of charity work, our favorite royal family member was one to watch! 

Tracee Ellis Ross Launched A Revolutionary Hair Care Line For Curls.

Known for her curly tresses, it didn't come as a surprise when Tracee Ellis Ross revealed the exciting news that she created a hair care line catering to girls with 3B-4C hair, called PATTERN. 

What did have us clutching our pearls is the way the 45-year-old Black-ish star announced it—flaunting her fabulous curls in the nude! An entire mood.

Tisha Campbell & Tichina Arnold Demanded Attention At The 2019 Soul Train Awards.

Tisha Campbell and Tichina Arnold did not disappoint as the hosts of the 2019 Soul Train Awards. From vogue dancing in sexy skin-tight catsuits to leaving us laughing with their tongue-in-cheek comedy, the fabulous duo were hosts to remember. Dopeness!

Mj Rodriguez Historically Landed Her First Beauty Campaign With Olay Body.

Pose star Mj Rodriguez was proudly named the first transwoman to secure a partnership with Olay Body. Showing off her flawless skin, the Black Latina served as one of the brand's coveted ambassadors for their 14 Day Skin Transformation campaign. Serve, girl, serve! 

Black Beauty Mogul, Supa Cent Broke Records By Selling $1.3M Of Merchandise— In One Hour!

It's without question, Reynell "Supa Cent" Steward is a social media genius. You may remember last year during Cyber Monday, the 31-year-old entrepreneur made her-story when her beauty brand, The Crayon Case, sold a whopping $1 million of products in 90 minutes. 

Well, that's nothing compared to this year when Supa beat her record by making $1.37 million in just one hour. Slay, sis!

And Last But Not Least, We Successfully Secured The Crowns Of All Major Pageants!

For the first time in history, Black women secured all crowns in the mainstream pageant world—Miss America 2019 Nia Franklin, Miss USA 2019 Cheslie Kryst, Miss Teen USA 2019 Kaliegh Garris, Miss Universe 2019 Zozibini Tunzi, and Miss World 2019 Toni-Ann Singh! 

It's also important to note that Jazell Barbie Royale from Jacksonville, FL, made history by being the first Black woman to earn the title, Miss International Queen at the international trans beauty pageant, based in Thailand. Do that, sis!