This Week In Good Black News: Lori Harvey Is In Relationship Bliss, Katt Williams Shows Up For A Legend And A TikTok Star Lands A Dream Role
Plus, after going viral for dancing together on stage, Keke Palmer and Usher join forces for his latest single.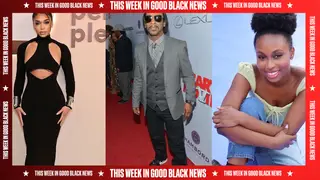 While the news landscape may sometimes seem dominated by adversity, from climate change to police brutality, we wanted to close the week by celebrating positive and triumphant narratives that deserve attention. 
Welcome to "This Week in Good Black News" from dreams coming true for TikTok creatives to international baecations and birthdays; here is simply some of the best stories from the last seven days. 
'The Wiz' Finds Its Dorothy

After nearly 50 years, "The Wiz" is returning to Broadway, and everyone wants to know who will play Dorothy. The role was popularized in 1974 by the legendary Stephanie Mills. According to a recent press release, 24-year-old newcomer Nichelle Lewis will star as Dorothy for a national tour this fall that will make it's return to Broadway in 2024. How did she get the role? Mills is a TikTok star who was discovered on the social media app.

The cast includes Deborah Cox as Glinda, Melody A. Betts as Aunt Em and Evillene, Kyle Ramar Freeman as the Lion, Phillip Johnson Richardson as the Tinman, and Avery Wilson as the Scarecrow. Wayne Brady will play "The Wiz." We can't wait to ease on down the road! Check out Mills on TikTok  above.

Katt Wiliams Pays For Melba Moore's Star On The Hollywood Walk Of Fame

Last week, legendary singer Melba Moore received a star on the Hollywood Walk of Fame. However, it wasn't until Aug. 13, that Moore revealed comedian Katt Williams paid for her star. The 77-year-old wrote on Facebook, "A public thank you to KW. He is the sole sponsor of my star. I am still in shock… Katt in me you have a Friend. Love Melba Forever Moore." 

A little known fact: those receiving a star must pay for the cost of the star, which is $75,000. This steep price includes the star's creation, installation, and maintenance. This cost covers the creation of the star itself, the ceremony, and any necessary repairs or replacements in the future. Gotta love Katt for showing love to this iconic legend!

'How Stella Got Her Groove Back' Celebrates 25 Years

August 14 marked the 25th anniversary of the classic hit film, "How Stella Got Her Groove Back." Yep, it's been 25 years since this movie was released. Based on Terry McMillan's bestselling novel, the movie tells the story of Stella Payne (Angela Bassett) who falls in love with a younger Jamaican man (Taye Diggs.) 

The film's exploration of self-discovery, love, and the pursuit of happiness, set against the vibrant backdrop of Jamaica, captured the hearts of millions. The cast also included Whoopi Goldberg and Regina King. Cheers to "How Stella Got Her Groove Back," and click here to see where the cast is today!

Happy 85th Birthday, Rep. Maxine Waters!

Rep. Maxine Waters turned 85 years old this week! Rep. Waters, born on August 15, 1938 in Kinloch, Missouri, served as a member of California's State Assembly from 1976 to 1991. By 1992, she was representing California's 43rd congressional district. That same year, as Los Angeles was rocked following the verdict in the Rodney King case, she founded Community Build, the city's grassroots rebuilding project.

In recent years, Waters has been outspoken against former President Donald Trump, called for a thorough investigation of the Jan. 6 insurrection, and been a longtime advocate against police brutality. Happy 85th birthday, Rep. Maxine Waters! We are always here for you to reclaim your time!

Queen Halle Berry Takes Another Trip Around The Sun

Speaking of birthdays, the legend, the icon, the queen—Halle Berry—turned 57 on Aug. 14. It's hard to believe Berry, in all her glory, has seen 57 turns around the sun. The beloved actress posted on social media to say, "Thank you all for the birthday love… here's to 57." 

In honor of Ms. Berry, check out our list of some of her best performances on the big screen.

Lori Harvey And Damson Idris Are Living The Life In Cabo San Lucas, Mexico

Lori Harvey and Damson Idris are definitely couple goals. On August 15, the beauty mogul posted images of their romantic getaway in San Lucas, Mexico. She captioned the post "Living La Vida Loca" while rocking her sexy beachwear from her brand, Yevrah Swimwear, which she launched earlier this month. She also posted a pic of her and Idris raising a glass. See all the fabulousness above, and check out pieces from her sexy swimwear line.

Trump Held Accountable In Georgia!

With more indictments than we can count, the former, twice-impeached President Donald Trump was hit with a 98-page indictment in the Peach State on Aug. 14. Under Fulton County, Georgia, District Attorney Fani Willis, the indictments, which include 18 other people, range from trying to pressure Georgia officials into a scheme to overturn the elections to violating RICO racketeering statutes to coercing public officers into lying to forgery, even conspiracy to impersonate an officer, and trying to hack voting machines. While the right attempts to attack DA Wills, she said at a press conference, "I make decisions in this office based on the facts and the law."

Check out BET.com's analysis of the latest indictments here.

Usher Drops New Single With Keke Palmer

Keke Palmer went viral earlier this summer for dancing suggestively on stage with Usher at his Las Vegas residency, and who could blame her? Well, her boyfriend, Darius Jackson took to social media and offered a bizarre reaction to what could have been a private conversation. So, Palmer and Usher put their heads together and turned an awkward situation into creative genius.

On the morning of Aug. 16, Palmer posted details about her appearance in Usher's new video for his single, "Boyfriend."

"You [Usher] are a living legend who is worthy of awe! Thank you for encouraging me and seeing me as the entertainer I am," wrote Palmer. 

Check out the video above!

Tiffany Haddish's 'Landscape With Invisible Hand' Hits Theaters Today!

Tiffany Haddish is back on the big screen, and it's good to see her in the thick of things. Haddish stars in the sci-fi drama "Landscape With Invisible Hand." The highly anticipated film follows two teens who try to save their families when an occupying alien species leaves most of the planet in poverty. The film also stars Asante Blackk, who got his big break in Ava DuVernay's "When They See Us." Haddish plays his mother in the movie. Watch the trailer above.

Funds Raised For Man In Alabama Riverboat Brawl

The viral joy over the Riverboat brawl in Montgomery, Ala., goes beyond social media. After Reggie Ray, the Alabama man who authorities accuse of swinging a folding chair at several people during the brawl, was released from jail on Aug. 12, a GoFundMe campaign was launched to pay for his legal fees. The 42-year-old, who was charged with disorderly conduct, has now raised over $288,000. Glad to see the community show up and show out when needed for Mr. Ray!

Come back next Friday for the latest in "This Week In Good Black News."